The Kaiapoi Aquatic Centre offers a lap pool, combined leisure and learn to swim space, and a beach area for parents and toddlers.
Programmes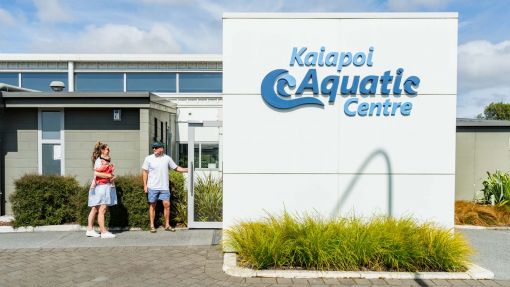 Programmes and activities available include:
Learn to swim and water safety programme
Schools swimming lessons
Aquarobics
Lane swimming
Masters swimming
Pool Guidelines
To ensure the safety and enjoyment of all our users we have the following pool guidelines:
Children under the age of 5 must have an adult in the water with them at all times
Each adult can supervise up to two children under the age of 5
Children aged 5 - 7 years (inclusive) must be actively supervised by an adult at all times
Please walk around the poolside
Ensure you have a 20 minute rest from the water after eating
Please follow the instruction of the lifeguards
Please see a staff member before using any camera equipment inside the facility
Pool Space Availability
For pool availability and current bookings please see operating hours section
WaiSwim Hours
Due to high demand for public lessons and the size of our facility, there may be limited space available at the following times:
Monday - Wednesday: 3.30pm – 6.00pm – no lane or recreation space available.
Thursday 3.30pm – 6.00pm, Saturday & Sunday 9.00am -12.30pm – limited lane space and no recreation space available.
Location
9 Cass Street, Kaiapoi
Other Swimming Pools
Last reviewed date: 06 Aug 2023