The Council adopted the final Rangiora Town Centre Strategy in July 2020.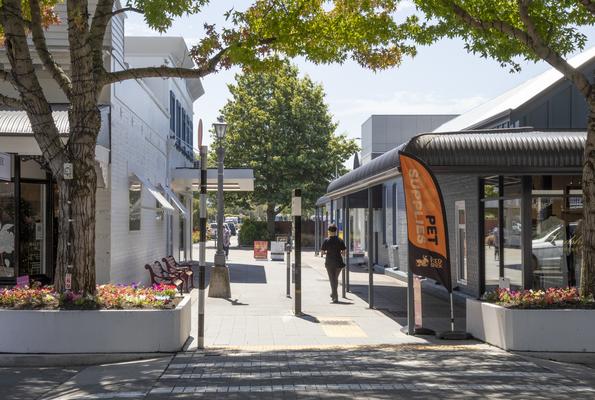 Inside the Strategy, you'll find information about the 10 major projects we've identified that will help turn our vision into reality and attract further investment to the Town Centre.
It introduces a vision for what the Centre could look and feel like by 2030: Rangiora Town Centre: Charismatic and Contemporary.
The success of the Rangiora Town Centre is vital in ensuring Waimakariri's economy continues to thrive. It's a major service centre for the District and a hub for commerce, employment and recreation.
It's my pleasure to introduce the Rangiora Town Centre Strategy.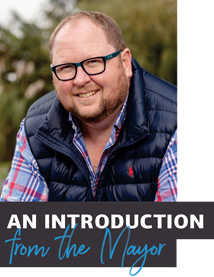 In this document we describe an exciting vision of how the Town Centre could look and feel in the future. The success of the Rangiora Town Centre is vital in ensuring Waimakariri's economy continues to thrive. It's a major service centre for the District and a hub for commerce, employment and recreation.
Over 20 years of sustained population growth has seen Rangiora expand past its traditional boundaries and by 2048 it is estimated that more than 30,000 people will call Rangiora home.
Local businesses tell me that visitors enjoy our town's friendly atmosphere and charm. They are often surprised with how much the Town Centre has to offer and we have an opportunity to further enhance our unique character and showcase Rangiora as a destination.
Rangiora's retail trends are improving. We've attracted major national retailers to complement our local, boutique stores and increasingly our residents are shopping locally. However, we want to develop a vibrant town centre where people enjoy spending time and create public areas that promote our residents' health, happiness, and wellbeing.
The previous Rangiora Town Centre Strategy (RTC2020) has proven successful in bringing about exciting development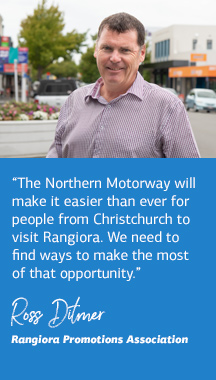 s and greater vitality in the Town Centre. However with the vast majority of the key projects identified in the RTC2020 completed, it was time to stretch our aspirations further into the future.
Over 60% of Waimakariri residents view Rangiora as their primary destination for shopping and services. This population continues to increase following more than 20 years of sustained growth, with Rangiora itself expected to grow from around 18,000 people to approximately 30,000 by 2048.
Some 4,500 new households are planned on the edge of existing residential zones. Around 500 metres as the crow flies is all that separates the north-eastern residential growth area from the heart of High Street; this will create unique opportunities for a vibrant and practical connection between the two.
If Rangiora is to meet the needs of an increasing number of people, it will need to accommodate a substantial increase in floor space for retail, business and community services, and do so well. It's vital that we strategically plan for this growth and ensure our Town Centre is vibrant, prosperous and retains its unique character in the coming decades.
The concept of 'towns for shopping' is becoming outdated. Changing trends, including a growing move to online shopping, has resulted in a higher turnover of tenants, introduction of pop-up formats and centres more oriented towards events and activities.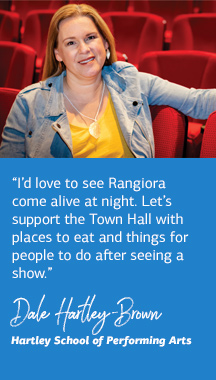 There is now a greater emphasis on town centre experiences, which means providing a mix of activities, well designed public spaces and an attractive environment are increasingly important.
We need to ensure that the Town Centre has:
An inviting outdoor setting that incorporates the character of the town, appealing landscaping, historic buildings and enjoyable public spaces.
Buildings that provide for attractive and inviting ground floor uses.
Good parking and accessibility from all directions by various modes of travel; including public transport and cycling.
A pleasant pedestrian environment that encourages people to walk alongside stores, shop and linger in cafés and other public spaces.
Opportunities and spaces set aside for public art.
A wide range of facilities, activities and services that bring people together and add to the vitality and vibrancy of the Town Centre
Rangiora Town Centre Strategy
This strategy is a framework for the ongoing development, growth, and success of Rangiora for the next 10 years and beyond.
This strategy was developed with the help of specialist urban design and transport consultants, and guided by a Reference Group that includes community groups, businesses, developers, Enterprise North Canterbury, the Rangiora-Ashley Community Board and Council members.
A survey was also open to the public and responses were used as a 'sound check' to make sure we were on the right track. Following deliberations and recommendations by the Hearing Panel, the final Rangiora Town Centre Strategy was adopted on 7 July 2020.
To learn more about the background documents and information that informed this strategy please contact the Business and Centres team via office@wmk.govt.nz or by calling 0800 965 468 (0800 WMK GOV).
Last reviewed date: 27 May 2023