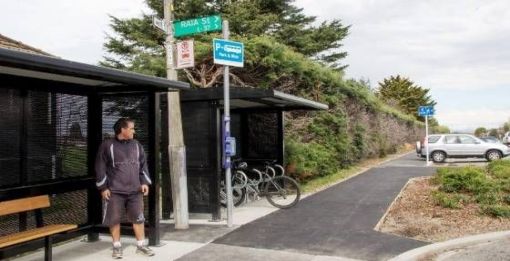 We have five Park and Ride sites - three in Rangiora and two in Kaiapoi. These are to support the direct bus services providing peak hour commuters with faster trips into Christchurch City and parking for residents who wish to carpool.
Parking is free at the park and ride sites.
The direct bus service or those that carpool can use dedicated T2* lanes on the Christchurch Northern motorway.
Rangiora
Three Park and Ride sites:
Northern Rangiora - River Road (the current small Park and Ride area has been moved beside the dog park parking area)
Central Rangiora - White Street (the existing Park and Ride site at White Street – pictured below)
Southern Rangiora - South Belt (at Southbrook Park).
Kaiapoi
Two park and ride sites:
Central Park and Ride - beside New World in Charles Street
Southern Kaiapoi – Wrights Road (south of Tram Road)
Each park and ride site has between 40-100 free car parks as well as bike parking facilities.
Standard bus services will use the Park and Ride sites apart from the Central Kaiapoi site which will only be serviced by the direct buses.
T2* Travel with at least one passenger in your car to use the new T2 lanes. Buses and motorbikes can also use an operational T2 lane.
Last reviewed date: 23 Nov 2023