Dog Control in Parks and Reserves
To protect public safety and enjoyment, the Waimakariri District Council Dog Control Bylaw 2019 classifies the District's parks and reserves into three categories: Dog Prohibited Areas, Leash Control Areas and Under Control Areas. The First Schedule of the bylaw lists all the District's reserves and their classifications. You can exercise your dog off the leash in Under Control Areas as long as you keep the dog under continuous supervision and control.
Note: If a reserve isn't listed it remains an 'under control area' until reclassified. Always check the reserve's signposts before taking a dog onto a reserve.
Find a Dog Park
Browse our interactive map to find a dog park or exercise area near you.
A 9540m2 dog park was established in Southbrook Park (South Belt, Rangiora) in 2010 - access to this is from Coronation Street or the Southbrook Park car park. The park features a pleasant walking circuit leading to a large fenced area where dogs can be let off leash to run and play. Information signs and seating are provided, along with dog waste bags, bins and a water supply.
The Kaiapoi Dog Park opened on 30 November 2019. The park has been built on previous red zone land. Many trees and shrubs that were once the pride of residents' private gardens have been retained. With park benches throughout, it already has the feeling of an established park. Kaiapoi's dog park covers 2.2 hectares; 1.6 hectares for large dogs and a separate small dog area of 0.6 hectares. Facilities include dog waste bins and bag dispensers, and drinking fountains with dog bowls.
There are three entrances to the park are off Charles St, Jollie St, and also within the Honda Forest area.
A two hectare dog park was established in Gladstone Park in 2017 - access to this is from Gladstone Road, Woodend or Hakatere Road, Pegasus.
The park features separate large and small dog park areas which are fenced so dogs can be let off leash to run and play. A pleasant walking circuit, information signs and seating are provided, along with dog waste bags, bins and a water supply.
In time the new trees will grow to provide areas of shade and basic dog agility equipment added for dogs to play on. This is a space for dogs to enjoy exploration, outdoor exercise and large open space. It is therefore not highly manicured and is kept as a safe but more natural environment for dogs to enjoy.
A dog park has been developed in Millton Memorial Park, corner Millton Ave/River Road in Rangiora. This park covers 2.634 hectares and was opened in December 2015. The park features a large dog area and small dog area, dog waste bags, bins and a drinking water facility.
Take a look at the Rangiora Dog Park Facebook page.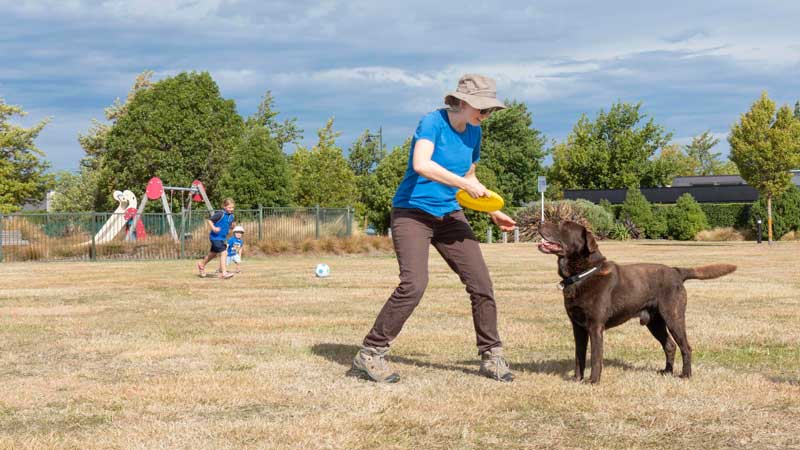 Things to Know When Using a Dog Park
Dogs must be on a lead when entering and exiting the dog park
Dogs with registration and current vaccinations only
No female dogs on heat
No puppies less than six months old
Limit of three dogs per adult
Always clean up after your dog
Dog handlers must be in view of and in control of their dog(s) at all times
Dogs who bark constantly and/or are aggressive should be removed
Children must be closely supervised at all times
Animal and human food or treats are not permitted
No glass allowed
Wear shoes in the dog park at all times
When leaving the park, please remove all play items (eg balls)
Dog handlers are responsible for any injury or damage caused by their dogs.
If any of the above rules are breached, contact our Animal Management Team on 0800 965 468.
Last reviewed date: 04 Aug 2023