Waimakariri District is a special place to live and it is important to make provisions for its growth, including rural residential growth, in the future.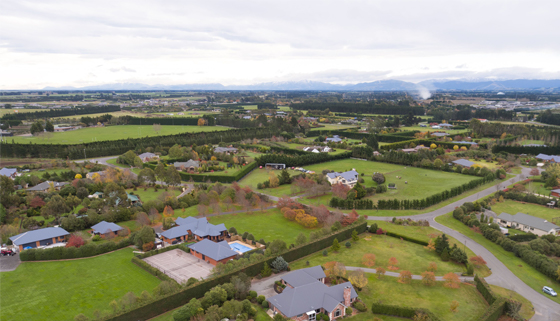 The Council adopted the Waimakariri Rural Residential Development Strategy on 4 June 2019. This now supersedes the 2010 Rural Residential Development Plan. This Strategy provides the framework for the future provision of land zoned for rural residential purposes in the Waimakariri District. It identifies growth locations for rural residential development across the whole District to meet a projected demand of approximately 385 rural residential households over the next 10 years.
Rural residential development helps to provide diverse living choices for people. It involves the subdivision and use of land (to lots typically sized 2,500m2 to 1 hectare) to cater for those wanting to live within a semi-rural setting. The Rural Residential Development Strategy proactively manages rural land, for rural residential use, by identifying 'clustered' locations for development. In this way, it also helps to protect the balance of rural land for primary production and rural character purposes.
Read the Strategy
Waimakariri Rural Residential Development Strategy
The Waimakariri District Plan Review process is the key vehicle through which the Rural Residential Development Strategy will be implemented. The Proposed District Plan is intended to be publicly notified from early to mid-2020. Most likely, the Proposed District Plan will apply a 'Rural Residential Growth Area Overlay' (or similar) which indicates that the area is identified for rural residential development and subsequent rezoning. This will be accompanied by District Plan provisions to enable this approach.
Upon notification of the Proposed Waimakariri District Plan, landowners interested in developing their land have the opportunity to submit on the Proposed Waimakariri District Plan, requesting that the land be rezoned rural residential.
Landowners interested in having their land rezoned will need to provide detailed assessments to support their submission (or as part of a separate private plan change application) that demonstrate their land is suitable for rezoning for rural residential use. These investigations typically address flood hazard; stormwater, water and wastewater servicing; transportation; geotechnical; and soil contamination. District Plan Review decision makers (or in the case of a private plan change application, the decision makers assigned to that private plan change) will then decide, based on the evidence provided, whether the land should be rezoned for rural residential use.
The pre-application services and the expertise of the Duty Planner offered by Council can have a role in assisting landowners interested in having their land rezoned for rural residential use through the District Plan Review process or otherwise (e.g. private plan change application). Meetings can be requested with staff to help facilitate communication and provide an opportunity to discuss District Plan requirements, processes, and relevant documents required to support a submission to the Notified District Plan to have their land rezoned (e.g. flood hazard, geotechnical reports etc). A Project Advisory Group (PAG) meeting may also be requested by landowners if required. This service draws together key relevant Council staff to review, discuss and provide impartial, and without prejudice advice on development relating to significant land use activities and subdivision proposals and prospective District Plan change requests.
The Rural Residential Development Strategy signals an intent for the Strategy to be 'checked' in 2022, in order to reconcile it against other work including the District Plan Review, if necessary. The quantum of anticipated and/or actual land rezoned for rural residential use as an outcome of the Strategy and the District Plan Review will then be better known and will inform this exercise.
The final Rural Residential Development Strategy follows wide public consultation over March/April 2019 and confirms four areas for further rural residential growth in the District: Swannanoa, Oxford, Ashley/Loburn and Gressons Road (north of Woodend).
Last reviewed date: 22 Sep 2023